Jamie Lynn Spears' 'Perfect Pregnancy' plus Britney's new look
1:03 PM
"I had the perfect pregnancy." This is what 17-year-old mom Jamie Lynn Spears told OK! magazine in their latest issue. The exclusive photos are splashed across the magazine's pages to the tune of a whopping $1 Million. Don't you just wish your baby's photo was worth that much?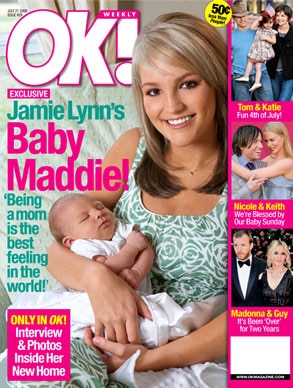 She says: "They'd told me it would be an eight- to 12-hour labor, and I was ready to have the baby in three to four hours," said Jamie. "I had a perfect pregnancy and a perfect delivery. I was very blessed."

Why did they name the baby Maddie Briann? "Maddie is a name that Casey thought of, and I really liked it. Briann was because, a week and a half before she was born, one of Casey's cousins, who he was really close with, passed. He was in a car accident. His name was Brian. She's also named after my older brother, Bryan Spears. We just added another 'N' to it and made her Maddie Briann."

IN OTHER NEWS: Looks like Britney Spears is on her way to her old self -- or should I say the NEW her. New photos from Yahoo! shows the sexy mom and comeback artist in a new do, reminding us when we used to say, Britney Hit me One More time.